Categories LOOP EVENTS
In The Loop 21 March: ft 8 Gold Rings on a live Biggie tip, £50 cypher prize and The Lox ticket comp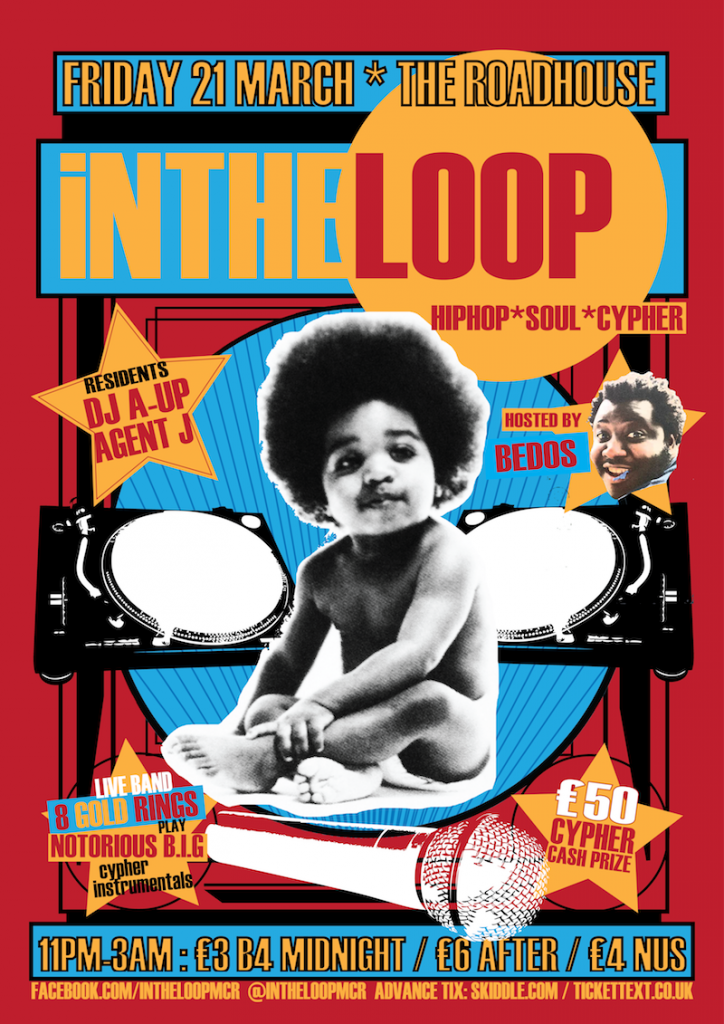 These tickets are on sale for IN THE LOOP MARCH ft 8 GOLD RINGS play BIGGIE. Skiddle.com is an official ticket outlet for this event. All credit card purchases you make at Skiddle.com are encrypted through our Secure Server Technology
Buy tickets online with Skiddle
Community hip hop night In The Loop returns to the Roadhouse this coming Friday 21st March. The Loop cypher is the stuff of legend in Manchester, and this month we welcome back Bricks and band aka 8 GOLD RINGS. It's 20 years since the release of the seminal READY TO DIE so expect a NOTORIOUS B.I.G. instrumentals set to back the MCs.
If you're unfamiliar with the format, it's a loop on the dancefloor with Bedos calling the shots, all welcome to jump on the mic. There's a £50 prize up for grabs for best raps, judged by the Loop crew. 
For the rest of the night, expect classic, Manc and new underground hip hop, a smattering of soul and whatever else we fancy from residents DJ A-UP (Nougold, C'mon Feet) and Agent J (Groovement).
HOSTED BY THE ONE & ONLY BEDOS
Comp on the night: win a pair of tickets to THE LOX at Club Academy on 29th March – enter on the door, prize draw on stage on the night! Thanks to This Is Hip Hop for those.
Buy Lox tickets here: http://skiddle.com/whats-on/Manchester/Manchester-Club-Academy/the-lox/12117794/
 Also catch the Loop trinity 1st Fridays monthly at Terrace, Northern Quarter. 
Buy Loop tickets on Skiddle: http://skiddle.com/whats-on/Manchester/Roadhouse/IN-THE-LOOP-MARCH-ft-8-GOLD-RINGS-play-BIGGIE/12111258/
or Ticket Text: http://tickettext.co.uk/intheloop/in-the-loop-feat-live-cypher/
Facebook event: http://facebook.com/events/733783926655651/
Loop on Twitter: http://twitter.com/intheloopmcr
8 Gold Rings: http://twitter.com/8GR_MCR
Loop Facebook: http://facebook.com/intheloopmcr
FRIDAY 21 MARCH
THE ROADHOUSE, NEWTON ST, MANCHESTER
11PM – 3AM, £3 before midnight, £6 after (£4 NUS)