Categories LOOP EVENTS
In The Loop Fri Nov 18 with Danny Drive Thru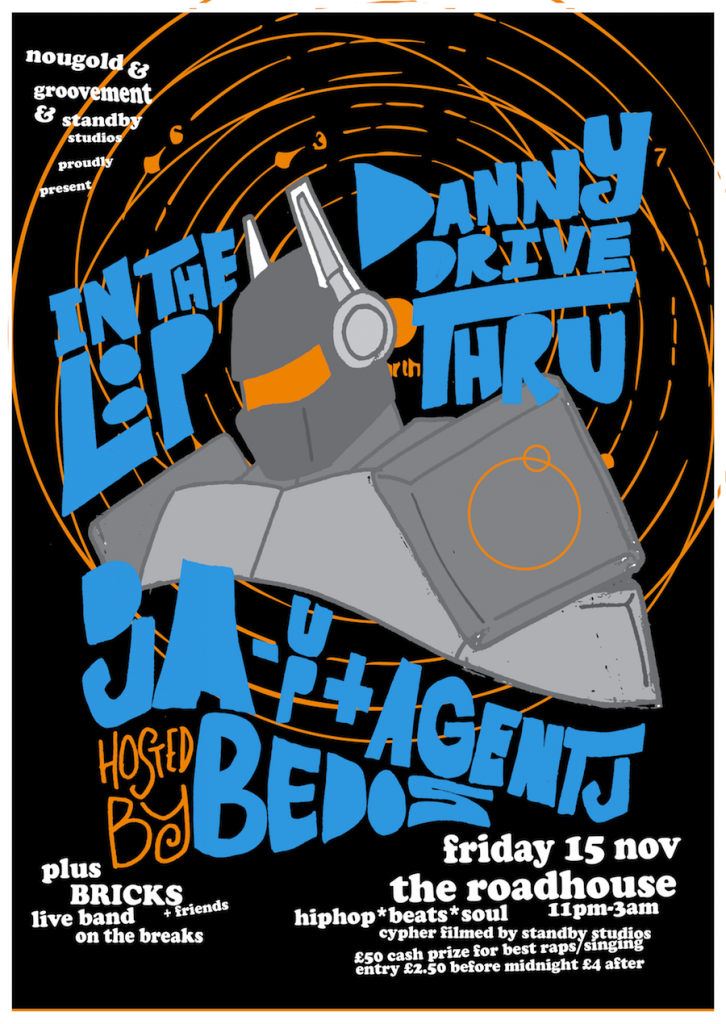 Nougold x Groovement x Standby Studios present
IN THE LOOP NOVEMBER with DANNY DRIVE THRU
+ residents DJ A-UP and AGENT J
+ BRICKS + friends live band
+ hosted by BEDOS
These tickets are on sale for IN THE LOOP NOVEMBER with DANNY DRIVE THRU. Skiddle.com is an official ticket outlet for this event. All credit card purchases you make at Skiddle.com are encrypted through our Secure Server Technology
Hip hop and beats! £50 cash prize on the cypher.
We welcome back producer and selector Danny Drive Thru to guide us through the night…
Blowing up with Virtua Ante Up (spun by the likes of Thom York over at Low End Theory) and Virtua Rap (included by Kutmah on his Stones Throw podcast http://www.stonesthrow.com/news/2010/07/stones-throw-podcast-61-kutmah), Danny is much more than a one-trick virtua pony. The range of his production is wider than Cinemascope, creating music from a range of influences but always an embodiment of hip hop nerdery. He's also one of the nicest men on the planet. He's got a few releases up his sleeve over the coming months so keep on eye on him here:www.twitter.com/dannydrivethru
Listen to Danny's stuff here: www.soundcloud.com/drivethru
We're bringing back a live band to back the cypher this month… Skittles and band tore the venue a new one back in May at Loop, so we've asked one of Manchester finest unsung musicians, Bricks, to come back and lay down some breaks with other members of the band… now with a cash prize of £50 (to be judged by Loop crew) – get a flavour of the cypher here. http://www.youtube.com/watch?v=HjHZetW4Ftc
Standby Studios will be filming on the night!
Apart from that, it's new and classic underground hip hop plus a bit of soul from DJ A-UP and Agent J with host Bedos on the mic all night.
Podcasts:
WWW.NOUGOLD.CO.UK / WWW.GROOVEMENT.CO.UK
For more information about this event, visit
http://www.skiddle.com/events/12013308?skcampaign=fbe
Minimum Age: 18
Date: 15th Nov 2013 11:00pm
Last Entry: 2:00am
Venue: Roadhouse
8 Newton Street, Piccadilly
Manchester
M1 2AN